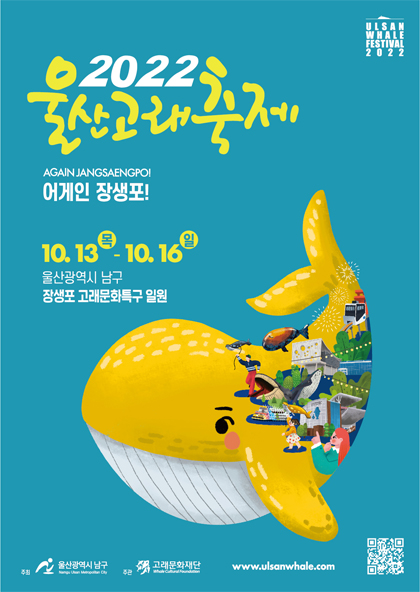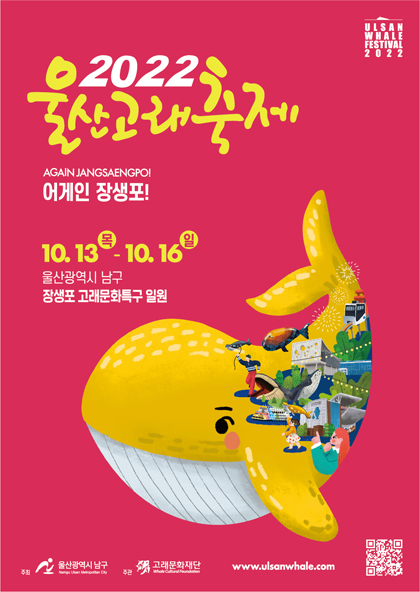 2022 ULSAN WHALE FESTIVAL
Date

2022.10.13(thu) - 10.16(sun), 4 days
Locatioin

Jansaengpo district
Slogan

Whale of Dream! Sea of Dream! Ulsan of Dream!
Hosted by / Organized by

Ulsan Namgu/ Whale Culture Foundation
Identity

Build Whale contents infrastructure
preserve Jangsaenpo regional culture (Whale Contents)
Eco-life campaign
Healing festival with various attractions and programmes
ULSAN WHALE FESTIVAL
In 2022 the Ulsan Whale Festival organized a "healing festival" goes with music and environmental campaign to recognize the environmental issues in the main square located Jansaengpo district, Ulsan, Korea. Festival has been grown up for 25 years aim to preserve Jangsaenpo regional culture and Petroglyphs of Bangudae Terrace classified National Treasure 285 only exist in Korea.
2022 Ulsan Whale Festival intended to build advanced environmental festival differentiated with the previous festivals with regards to whale meat cuisine and poaching. We will greet by a variety of whale infrastructures that are not found anywhere in the country including the Whale Watching Cruise, the Whale Museum, and the Whale Life Experience Museum, where you can see dolphins.
2022 Ulsan Whale Festival will bring children Hope and evoke nostalgia from the 70s and 80s
We will see you at the Whale Festival!